Riding on fear of the virus, scammers are using old techniques to make the most of the COVID-19 crisis by distilling malware, stealing your data, or stealing money from you.
The Covid-19 pandemic continues and will have brought out the worst among crooks, who will have taken the opportunity to launch scams of all kinds. This is the observation made by Benoit Grunemwald, cybersecurity expert at ESET, who warns to remain cautious about these scams that abound on the web.
Scammers take advantage of the virus to distill … viruses
The first example mentioned by the cybersecurity expert represents only a drop of water among all these scams, but it is already enough to get an idea of ​​the means put in place by the scammers to trap you. Remember this map developed by researchers at Johns Hopkins University, and which lists numerous statistics to assess the progression of the virus around the world? Some crooks have retorted it identically while plastering it with pop-ups. These then redirect you to phishing sites, which can, depending on the case, steal your personal data or even install malware on your computer.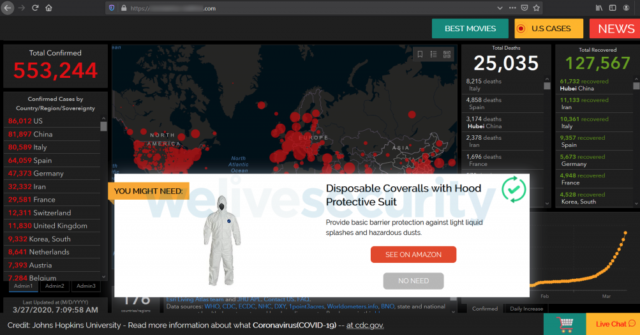 We can also cite these scammers posing as WHO officials, and sending official-looking emails to their victims. Again, bogus email is just one way of installing viruses on your computer. Some have taken the vice even further by making victims download a fraudulent application posing as the WHO. Except that by clicking on the download button, it is absolutely not an official source of information that the victim has, but rather various malware.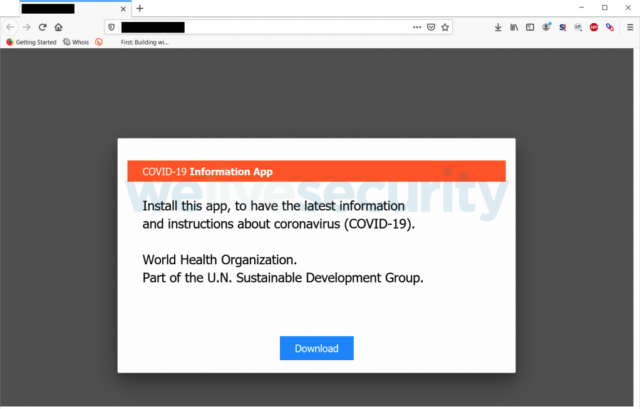 But scammers have many other cords to their arcs, especially when it comes to stealing money from their victims. Another popular scam is to gamble on the fear of a shortage of personal protective equipment, such as hydroalcoholic gels or face masks. This is how crooks created bogus stores that presented themselves as a one-stop-shop in times of a pandemic, and thus siphoned off information from multiple credit cards. Other scammers have not hesitated to take up the good old scam of posing as a wealthy donor infected with Covid-19, and wishing to make amends by distributing his fortune with charities. The crook then asks you to help him in his task, promising you generous sums in return, before demanding ever larger bribes from you.
It is therefore advisable to remain on the alert during this very special period, and to follow these tips to avoid disappointments:
– Do not click any links or download any files in an email if you cannot verify the source independently.
– Rely on reliable sources such as official websites of health organizations or news.
– Examine offers that seem too good to be true or suspicious, and never buy anything from an unverified seller.
– Do not respond to unsolicited emails, especially if they ask you to provide personal information of any kind.
– Always use a reputable point-of-access security solution that can protect you against malware, phishing, and other types of cyber threats.