The fourth day continues with the failure of Garmin systems, which has become, perhaps, one of the largest in the history of the IT industry.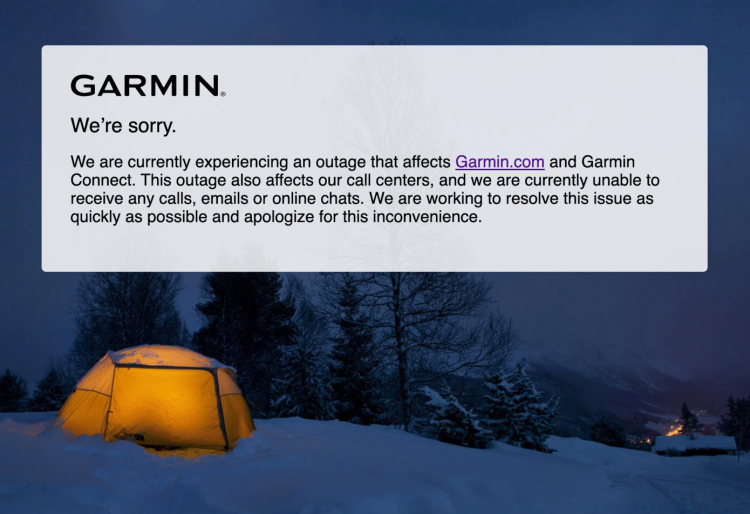 Due to an outage that began on Wednesday evening, the company's website is not available, the Garmin Connect app and call centers are not working, and owners of Garmin wearables cannot share training results with colleagues and sync them with cloud services. The failure also affected the services of the company's partners.
" We are currently experiencing an outage at Garmin.com and Garmin Connect. Our call centers have also been affected by this outage and we are currently unable to receive calls, emails or online chats. We are working to resolve this issue as soon as possible and we apologize for the inconvenience , "Garmin said a few hours after the start of the shutdown.
In a quick update on Saturday, Garmin noted that it has no confirmation that the crash affected user information, including data related to training, payments, or other personal information.
Almost immediately after the outage began, the ZDNet resource suggested that hackers were to blame for the incident, hacking into Garmin's networks in order to obtain a ransom. This version is now confirmed by sources of the resource TechCrunch, who reported that hackers used the WastedLocker ransomware virus to attack. This was also confirmed by Bleeping Computer.
WastedLocker is a new ransomware virus developed by Malwarebytes programmers in May and used by the hacking group Evil Corp (Evil Corporation). Like other file-encrypting malware, WastedLocker infects computers and locks a user's files with a ransom demand, usually in cryptocurrency.
Sources told TechCrunch that Garmin is now trying to restore its ecosystem to work. Earlier, the US Treasury Department imposed sanctions against Evil Corp and its alleged founder Maxim Yakubets. If Garmin tries to negotiate with Evil Corp and pay the required amount, it faces criminal prosecution from the authorities, since under the sanctions, American companies are prohibited from participating in deals with hackers of this group.