Credits: LetsGoDigital
The brand could soon enter the rollable smartphone market, with this retractable screen project.
Just a year ago, LG presented an ambitious roll-up screen TV at CES 2019. Available today on the American market, the product seems to have given some ideas to the Korean company, which could soon decline its technology on smartphones, reports the site LetsGoDigital. Indeed, the brand had already filed last August, a patent with the USPTO (United States Patent and Trademark Office), aiming to define a new concept of "roll-side mobile terminal" rather self-explanatory. A few months later, it was with the WIPO (World Intellectual Property Organization) that the American media found traces of the famous roll-up terminal.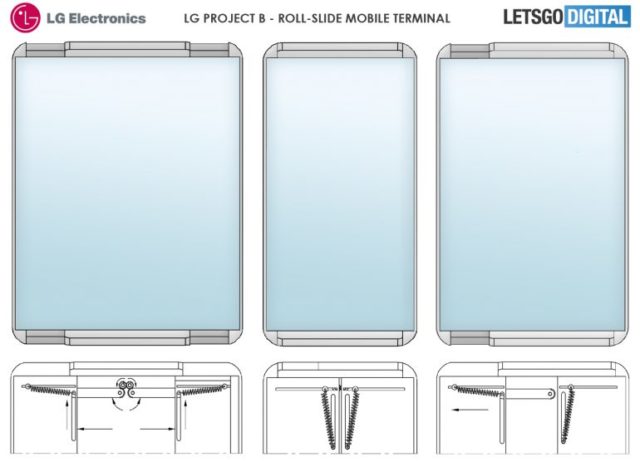 After a first concept of roll-up phone unveiled by the TCL brand there are a few days, so it's LG's turn to teaser the arrival of a new technology supposed to revolutionize our approach to the smartphone, only a few months after the announcement of its original Wing model. For the moment known under the code name "Project B", this new device could be presented in just a few months, next March if we are to believe the latest rumours. It could thus carry an OLED screen, as well as a metal case, and would be able to slide some of its sides, in order to go from smartphone format to tablet format with a simple gesture, without superfluous thickness. Obviously, if such a concept does indeed seem to be being tested by the Korean manufacturer, nothing confirms for the moment that it will be available for purchase one day. It is therefore a question of taking this information with caution. In addition, if the roll-side were to be marketed one day, it could be very expensive, as the first foldable phones were when they were released a few years ago. For comparison, the LG Signature OLED TV RX, using the same technology, is currently sold for nearly $60,000 in its 65-inch version in the United States.