Image source: HWBot, noizemaker
AMD Ryzen Zen 3 processors will go on sale in the coming days, but reviewers should already have samples in place to get their footage up to date. Informal data on the results of the overclocking of new products have already begun to leak into the internet. So far, the six-core Vermeer model manages to perform on an equal footing with its predecessors.
Experienced Indonesian overclocker with alias Lucky_n00b registered in the CPU-Z database the result of the Ryzen 5 5600X processor validation at 6124 MHz. All six cores and twelve threads are functioning in the specified mode. It can be assumed that liquid nitrogen was used when overclocking the processor, since the existing Ryzen 5 3600XT processors got to such frequencies using this cooling method. In the experiment, we used an MSI MAG B550 Tomahawk motherboard based on the AMD B550 chipset, so it cannot be ruled out that more expensive platforms based on AMD X570 will slightly improve the frequency result of the processor.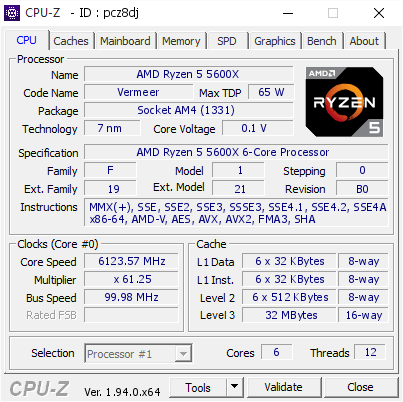 By the way, in the HWBot database, the record frequency for Ryzen 5 3600XT is 6155 MHz , while the processor combines the activity of six cores and six threads. The remaining six threads had to be turned off to ensure the stability of the processor.
In other words, the Ryzen 5 5600X does not show any obvious progress in the frequency potential, although it should be released on a more progressive versions of 7nm technology. A clearer idea of ​​the extreme overclocking capabilities of Ryzen processors will be formed as statistics and counters fill up, there are only a few days left before this process begins.