For a long time, traditional HDDs retained some advantages over SSDs. If we don't talk about speeds at linear and, especially, at random operations, then the unit cost of storage and the total volume of the drive are still on the side of the HDD. But even the latest hard drives are 20TB, and the use of cheap QLC NAND could make the new Nimbus Data drive the best choice where ultra-fast access speeds are not required.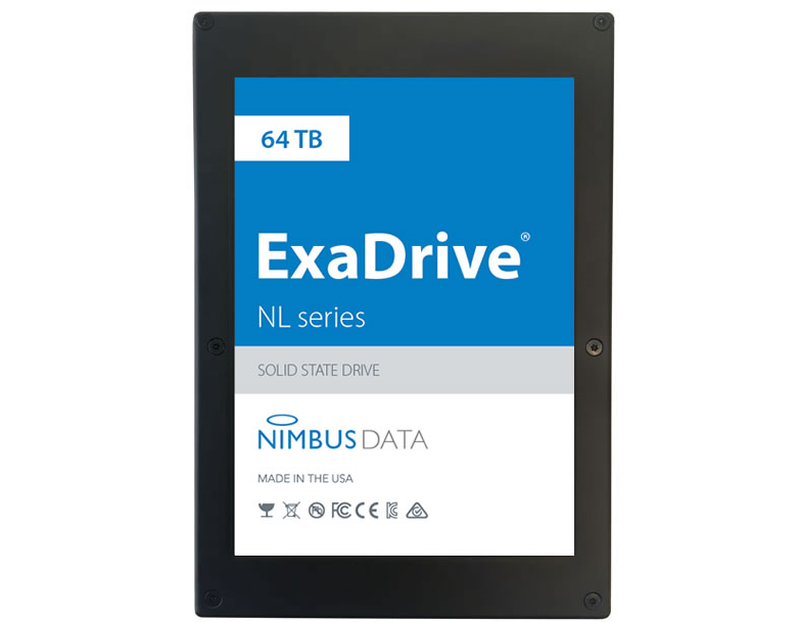 There are a lot of such scenarios in the field of information technology: this is any data archiving, and backup, and much more. For this kind of tasks, hybrid storage systems are often used, since enterprise-class SSDs are still more expensive than similar HDDs. But the new Nimbus Data drive called ExaDrive NL is intended to partially solve this problem.
The largest hard drive available today, boasting 20 TB capacity, is the Western Digital Ultrastar DC HC650. The new ExaDrive NL, presented by Nimbus Data, is more than three times larger – 64 TB. The new series of SSDs use QLC memory; its performance is low, especially for write operations. In this mode, it is comparable to that of HDD, but the access time to data for ExaDrive NL is 100 times lower, and it consumes 75% less energy than HDD.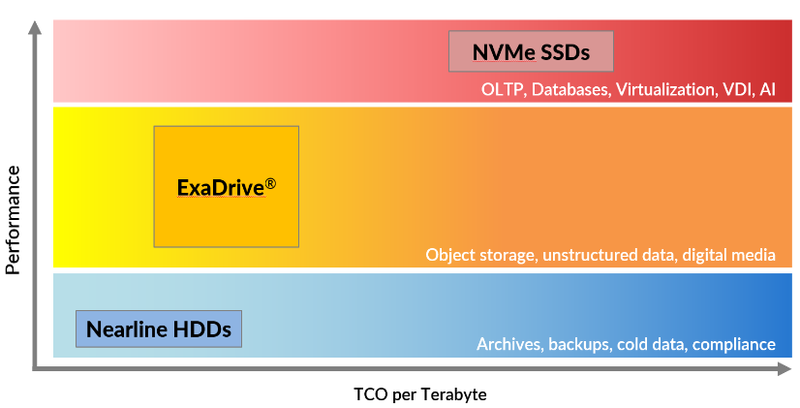 Scenarios of using drives and the performance required from them
The combination of QLC and huge volume makes ExaDrive NL the optimal choice for nearline-class tasks, especially since it uses a standard 3.5 ″ interface and supports SATA-3 and dual-port SAS-2 interfaces, which means it is easy to install into existing systems. Performance on random operations in 4K blocks is up to 100 thousand IOPS, linear speeds are typical for SATA disks and are equal to 500 MB / s.
Despite the use of QLC, the reliability is quite high and during the warranty period Nimbus ExaDrive NL drives can withstand up to 70 PB of recording. The manufacturer cites figures in the region of 0.2 – 0.6 rewrites per day. The series includes 16, 32 and 64 TB models.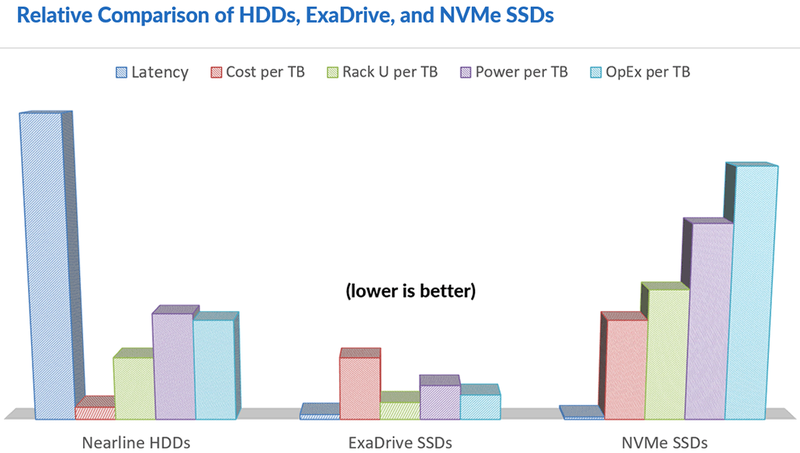 Nimbus ExaDrive is not as cheap to own as HDDs, but in other respects they are better
For now SSDs are six times more expensive than their mechanical counterparts. However, most analysts believe that prices for QLC will continue to fall, and by the end of the year the gap will narrow to five times. You can learn more about the new products on the manufacturer's website. ExaDrive NL is already approved for use in Dell EMC, HPE, Lenovo, Cisco and Supermicro servers.