The Pokémon Company had a long Pokémon presentation on Wednesday afternoon. One of the most exciting news from the show is a kind of sequel to the Nintendo 64 game Pokémon Snap, simply called New Pokémon Snap. The game comes to Nintendo Switch, and is being developed by Bandai Namco.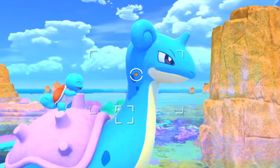 Like its name say, New Pokémon Snap is a photo game, where you go on a safari to take pictures of a bunch of Pokémon in their natural habitat.
By all accounts, this new game will have a number of more Pokémon than its predecessor, and a significantly more detailed area to explore. It also seems as if you are exploring the islands in the same way.
Pokémon Snap came in 1999 and then marked itself as a cunning side game to the usual monster collection in the main series.