It is impossible to deny the obvious: if five years ago there were many photographers who were skeptical about the increasing power and influence of mirrorless cameras, now many adherents of "classical technologies" have put their units on the shelf (or sold) and acquired cameras themselves without pentaprism. What is the position of DSLRs in the modern world? Do they continue to be released just to please the conservatives, or are the benefits still substantial? An optical viewfinder, significantly longer battery life, a large fleet of "native" optics, classic ergonomics are important factors for many when choosing a camera. High hopes are pinned on the Nikon D780: on the one hand, it should observe all the best traditions of the line, but, on the other hand, it should keep up with the mirrorless competitors.
⇡ # Main features. Differences from the previous generation
So, here is Nikon D780 – full frame DSLR camera. Nikon claims it did not come to replace the 2014 model D 750, and becomes next to it. And yet they cannot but be perceived in such a consistent cut, especially considering how much time has passed. At first glance, the new camera has adopted a lot from the previous generation: the cameras are similar in appearance, the resolution of the sensors is almost the same. But don't be fooled. Of course, over such a huge period by the standards of digital technologies, the manufacturer has reworked its product very significantly, and there are much more differences than similarities. In fact, the D780 is a hybrid of mirrorless technologies. In many ways, it is close to the Nikon Z6 mirrorless camera released two years ago. The same image sensor is installed here, and similar autofocus and video technologies are used here. Let's take a closer look at the key specs of the Nikon D780.
The camera uses a 24.5 megapixel BSI CMOS sensor with backlighting. The image sensor is equipped with a low-pass filter, which many manufacturers have already abandoned in favor of better frame detail. However, its presence promises us the absence of moire in the pictures, which may be a more significant advantage for some photographers. The resolution itself is not very large by modern standards, but it seems that amateur photographers have already realized that happiness is not always in huge numbers. With equal sensor sizes, a lower megapixel camera would be expected to produce less digital noise when shooting at high ISOs, and again, for some, this is a more important factor than being able to print oversized or heavily cropped.
The new sensor also has a faster readout speed, helping to deliver a maximum shooting speed of up to 12fps in electronic shutter mode when shooting 12-bit RAW. The shooting speed with the mechanical shutter has changed, but only slightly – 7fps versus 6.5fps on the D750.
As far as autofocus is concerned, Nikon uses the same 51-point system as its predecessor (we are talking about shooting through the viewfinder). But there have been some changes: the camera has a 180,000-pixel RGB metering sensor (almost double the size of the D750) and the AF algorithms used in the Nikon D5, which provide more sophisticated subject tracking.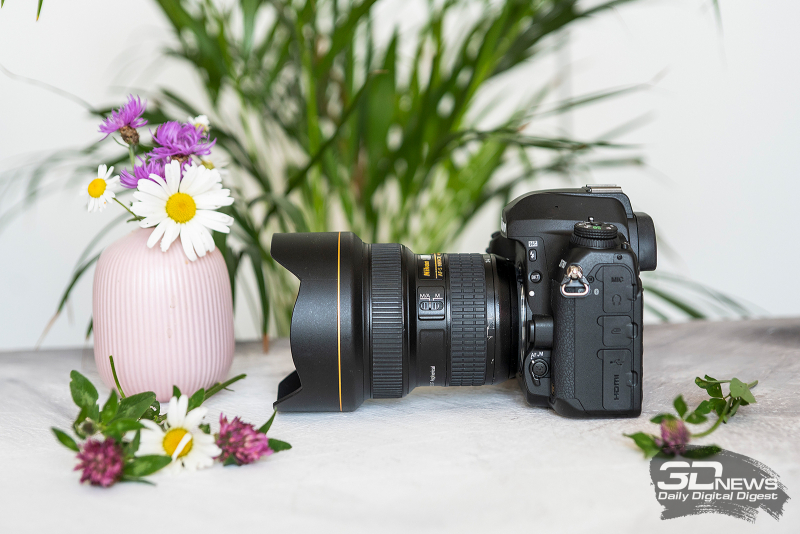 But, of course, a much more significant improvement in quality concerns focusing in Live View mode and in video shooting. Unlike the previous model, Nikon D780 is equipped not with contrast but with a hybrid autofocus system with 273 sensors located on the matrix; they cover 90% of the frame. All modern technologies, such as face and eye recognition and tracking, are available in both the viewfinder and Live View mode. The camera is capable of focusing in this mode with lighting down to –4EV (one stop lower than the AF system in the viewfinder) or –6EV in the slower Low Light AF mode. Filming is available in 4K, while the D750 was limited to Full HD.
Among the interesting updates, it is worth noting the new shutter, which allowed to expand the range of shutter speeds: the minimum shutter speed is now 1/8000 of a second, and the maximum is as much as 900 seconds. The ISO range has also expanded: now it is 100-51200 units, expandable "down" to 50 ISO and "up" to 204,800 ISO.
The Nikon D780 now offers direct charging via a USB cable, as well as an impressive increase in battery life: up to 2260 frames on a single charge. And finally, the manufacturer has removed the built-in flash from its model, which is unlikely to upset most of the target audience.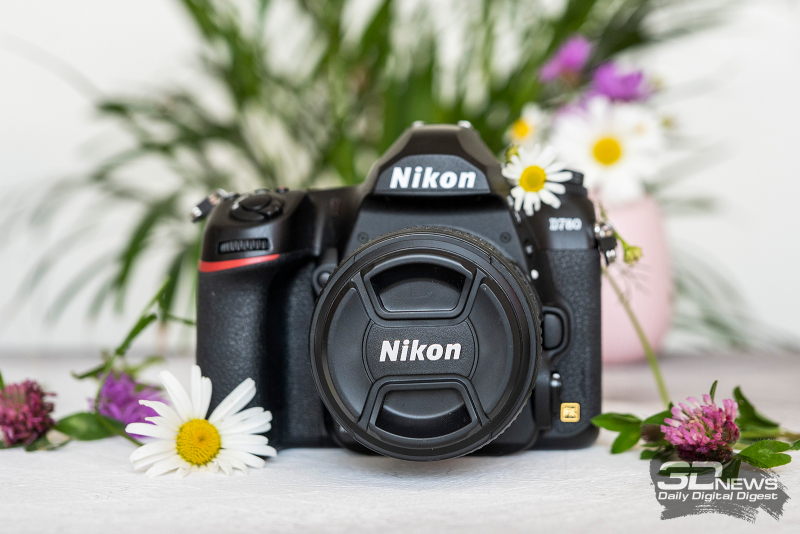 CF type I slot (UDMA 7 compatible) + UHS type SD / SDHC / SDXC slot
 
Nikon D780
Nikon D750
Canon EOS 5D Mark IV
Sony a7 III
Image Sensor
36 × 24mm (full frame)
36 × 24mm (full frame)
36 × 24mm (full frame)
36 × 24mm (full frame)
Effective sensor resolution
24.5 megapixels
24.3 megapixels
30.4 megapixels
24 megapixels
Image Stabilizer
no
no
no
5-axis
Bayonet
F Nikon
F Nikon
Canon EF
Sony E
Photo format
JPEG (EXIF 2.3, DCF 2.0), RAW (NRW)
JPEG (EXIF 2.3, DCF 2.0), RAW (NRW)
JPEG (EXIF 2.3, DCF 2.0), RAW, Dual Pixel RAW
JPEG (EXIF 2.3, DCF 2.0), RAW (ARW)
Video format
MOV, MP4
MOV
MOV, MP4
XAVC S, AVCHD 2.0, MP4
Frame size
Up to 6016 × 4016
Up to 6048 × 4024
Up to 6720 × 4480
Up to 6000 × 4000 pixels
Video Resolution
Up to 3840 × 2160, 30p
Up to 1920 × 1080, 60p
Up to 4096 × 2160, 30p
Up to 3840 × 2160, 30p
Sensitivity
ISO 100-102 400 expandable to ISO 50 and 204 800
ISO 100-12 800 expandable to ISO 50, 25 600 and 51200
ISO 100-32,000 expandable to ISO 50, 51,200 and 102,400
ISO 100-51200 expandable to 50, 102400 and 204800
Gate
Mechanical shutter: 1 / 8000-900 s;
long (Bulb)
Mechanical shutter: 1 / 4000–30 s;
long (Bulb)
Mechanical shutter: 1 / 8000-30 s;
long (Bulb)
Mechanical shutter: 1 / 8000-30 s;
long (Bulb); silent mode
Burst Speed ​​
Up to 7fps with mechanical shutter;
up to 12 frames per second with electronic shutter
Up to 6.5 frames per second
Up to 7 fps in normal mode, up to 4.3 fps in Live View with focus tracking
Up to 10fps with mechanical shutter
Autofocus
Phase (Advanced Multi-CAM 3500FX II), 51 points, of which 15 are cross-type; hybrid focusing in Live View
Phase (Advanced Multi-CAM 3500FX), 51 points, of which 15 are cross-type; contrast focusing in Live View mode
Phase, 61 points, of which 41 are cross-type; Dual Pixel CMOS AF with Live View Focus
Hybrid (contrast + phase), 693 points
Exposure metering, operating modes
TTL sensor, 180,000 points: matrix, center-weighted, spot
TTL sensor, 91,000 points: matrix, center-weighted, spot
TTL metering at 252 points: evaluative, partial, center-weighted, spot
Matrix metering, 1200 zones: matrix, center-weighted, spot, spot on standard / large area, averaged over the entire screen, over the brightest area
Exposure compensation
± 5.0 EV in 1, 1/3 or 1/2 EV steps
± 5.0 EV in 1, 1/3 or 1/2 EV steps
± 5 EV in 1/3 or 1/2 stop increments
± 5.0 EV in 1/3 or 1/2 EV steps
Built-in Flash
No
Yes, leading number 12
No, X-sync 1/200 s
No, X-sync
1/250 s
Self-timer
2 s, 5 s, 10 s, 20 s; from 1 to 9 exposures with an interval of 0.5; 1; 2 or 3 s
2 s, 5 s, 10 s, 20 s; 1 to 9 exposures at 0.5 intervals; 1; 2 or 3 s
2/10 s
2 s, 5 s, 10 s; self-timer for shooting with bracketing; self-timer for continuous shooting (up to 3 frames)
Memory card
Two slots for SD / SDHC / SDXC type UHS II
Two slots for SD / SDHC / SDXC type UHS I
Two slots, one compatible with Memory Stick (PRO, Pro Duo) and SD / SDHC / SDXC type UHS I / II, the other only for SD
Display
Tilting touch, LCD, 3.2 inches, resolution 2,359 thousand points; additional monochrome display
Tilting LCD, 3.2 inches, resolution 1,229k dots; additional monochrome display
LCD, 3.2 inches, 1620 thousand points, touch cover; additional monochrome display
3-inch tilting LCD, 0.92 million-dot resolution
Viewfinder
Pentaprism straight-through mirror viewfinder, 100% image area
Pentaprism straight-through mirror viewfinder, 100% image area
Pentaprism straight-through mirror viewfinder, 100% image area
Electronic (OLED, 2.36M points)
Interfaces
USB 3.2 (USB Type-C), 3.5mm headphone jack, 3.5mm microphone jack, miniHDMI, remote control connectors control and synchronizer
USB 2.0 (microUSB), 3.5mm headphone jack, 3.5mm microphone jack, miniHDMI, remote control and synchronizer connectors
HDMI, USB 3.0, 3.5mm for external microphone, 3.5mm for headphone, remote control port
USB Type-C (USB 3.0), microUSB, 3.5mm headphone jack, 3.5mm microphone jack, microHDMI type D
Wireless Modules
Wi-Fi, Bluetooth
Wi-Fi
Wi-Fi, NFC, GPS
Wi-Fi, NFC, Bluetooth
Battery
Li-ion battery EN-EL15b, 14 Wh (1900 mAh, 7 V)
Li-ion battery EN-EL15, 14 Wh (1900 mAh, 7 V)
Li-ion battery LP-E6N with a capacity of 14 Wh (1865 mAh, 7.2 V)
NP-FZ100 Li-ion battery, 16.4 Wh (2280 mAh, 7.2 V)
Dimensions
144 × 116 × 76 mm
141 × 113 × 78 mm
150.7 x 116.4 x 75.9 mm
126.9 x 95.6 x 73.7 mm
Weight
840 grams (with battery and memory card)
750 grams (with battery and memory card)
890 grams (including battery and memory card)
650 grams (with battery and memory card)
 
 
 
 
 
⇡ # Design and ergonomics
Outwardly Nikon D780 does not try to surprise us with something: it is similar to its predecessor and in general  it as the embodiment of "mirror classics". After tested recently mirrorless cameras, we immediately felt the contrast in size and weight: the D780, even with a small fix of 50 mm, is very heavy and large. In numbers, this is expressed as follows: dimensions – 144 × 116 × 76 mm, weight – 840 grams without a lens, but with a battery and a memory card. The one-piece body is made of magnesium alloy for durability and weather protection. Outside, the chamber is partially covered with anti-slip material. There is a large and comfortable grip on the right and a small thumb pad on the back. Despite the weight, the camera is comfortable to hold in the hand.
Let's now take a closer look at how ergonomics are organized. On the left edge, under three separate rubberized covers, are: connectors for a microphone and headphones; MC-DC1 port for wired remote control; HDMI Type-C and USB Type-C connectors.
The right edge contains slots for two SD (UHS-II) memory cards. Parallel recording on both cards is available, sequential or split into RAW and JPEG. This, by the way, is one of the main advantages of Nikon D780 over Z6: the mirrorless model has only one slot for a memory card, and cards of a specific XQD format are used. Of the small ergonomic quibbles – it is more convenient  when the designation of the slots is indicated directly next to them, and not on the lid, where the inscriptions are poorly read.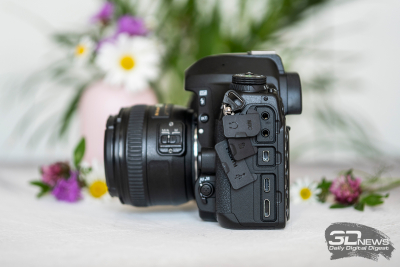 In the front we see the Nikon F mount with the lens release button. The mount is compatible with G, E and D lenses (some restrictions apply to PC lenses), other AF NIKKOR lenses (excluding IX NIKKOR lenses and lenses for F3AF), AI-P NIKKOR lenses, DX lenses (using DX image area (24 × 16), non-CPU AI lenses (modes A and M only).
There are also unusually many controls here: on the top right – the buttons for setting the flash and auto bracketing, below – the focus type switch. To the left of the mount on top is the diaphragm repeater button, below is the programmable Fn key. Also above is the autofocus indicator. One of the steering wheels is located on the ledge.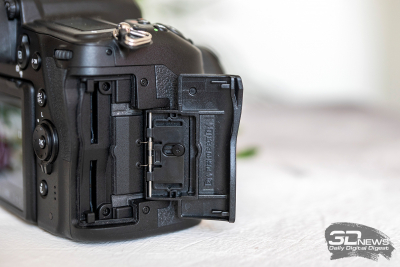 Bottom is the battery compartment and tripod socket. They are spaced far enough from each other so that you can easily change the battery when the camera is mounted on a tripod.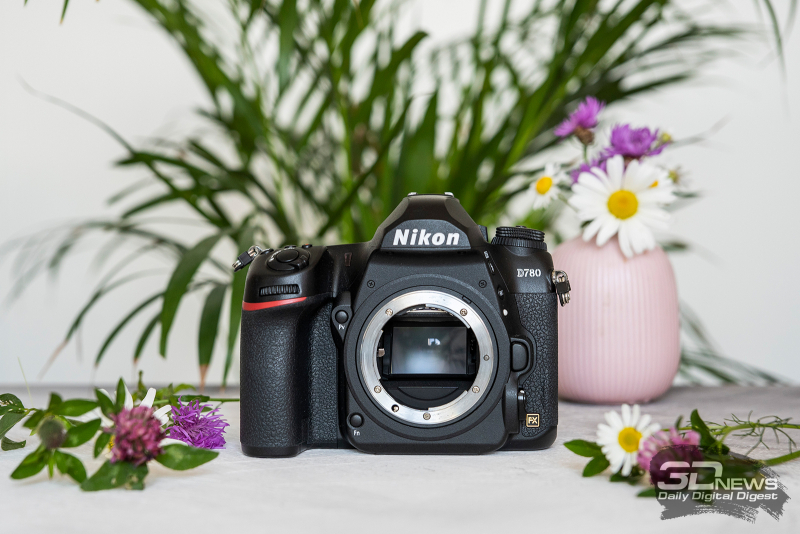 Above, from left to right, there are: the shooting mode selector, combined with the drive mode selection wheel (both are activated by pressing the adjacent buttons, which makes it impossible to accidentally change the parameters, but I can't say that in tactile terms it is comfortable), then – a "hot shoe" for connecting an external flash, a monochrome display for displaying settings, on the ledge there is a shutter button combined with the camera on / off lever (as well as the upper display backlight lamp), a video recording button, a value selection button ISO (it was added in this model, which, in my opinion, is very appropriate) and the introduction of exposure compensation.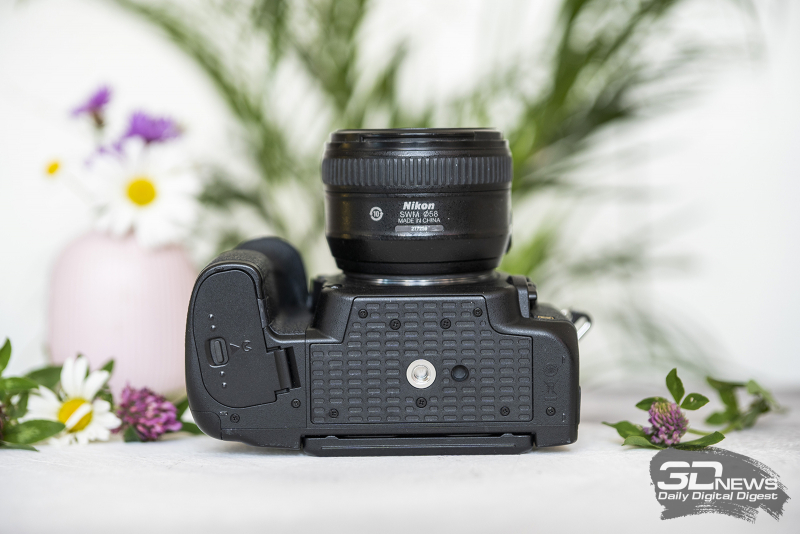 At the top of the rear panel we see the following org Controls: to the left of the viewfinder – buttons for viewing and deleting images, to the left of the screen – the camera charging indicator, menu buttons, white balance settings, zoom in / out, a button to change the information displayed on the screen. To the right of the viewfinder is the Live View button combined with the photo / video mode selector, the Af-On button, the second selector dial; below – the AE-L / AF-L button, multifunction joystick with a selection confirmation button in the center and a shortcut menu button.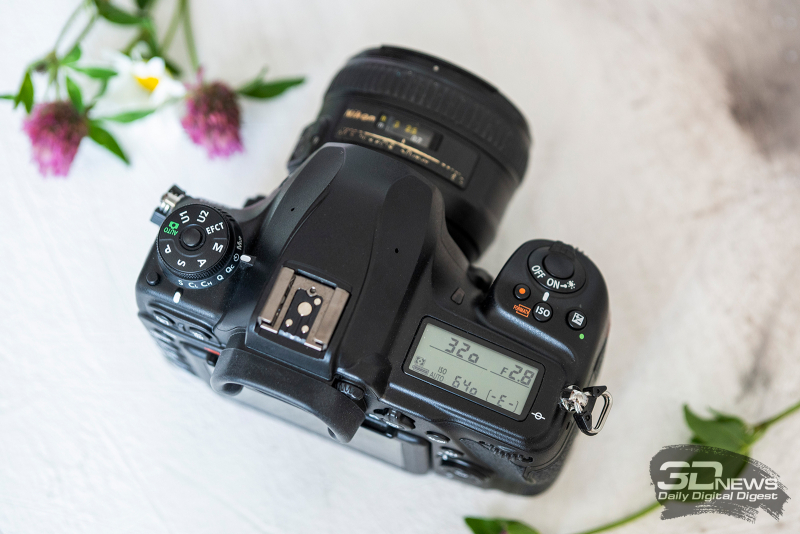 The ergonomics have changed slightly compared to the previous model, the location of some buttons has changed, but in general it will be familiar to Nikon users. The main changes are the presence of a dedicated AF-ON button and the absence of a built-in flash. Of course, the user can customize the camera – there are enough customized controls. Moreover, we can assign different functions to them for photo and video modes.
⇡ # Display and viewfinder
Like its predecessor, the Nikon D750, the D780 has a 3.2-inch tilting rear LCD screen. The differences are in the doubled resolution and the appearance of a touch cover, which at the moment can already be considered a quality standard. Touch controls can be used to access menus, zoom and navigate between images during playback, and control the AF point and release the shutter in Live View. Unfortunately, touch-sensitive focus point selection is not available when sighting through the viewfinder – which is a very convenient option.
To be honest, I took the overwhelming majority of shots during the test with sighting on the display – for many reasons this is more convenient for me than working with a viewfinder, either optical or electronic. In general, the image quality on the screen suited me, but from time to time it became inconvenient to work with it (at a certain angle of incidence of the sun's rays), and then I returned to the good old method of sighting. The Nikon D780 uses a pentaprism, 100% coverage, 0.7x magnification, reflex direct viewfinder.
| | | |
| --- | --- | --- |
| |   |   |
⇡ # Interface
Nikon D780's menu is organized in a traditional way for the company, its structure is practically the same as what we saw in the D750 or Z6. The menu options are divided into tabs and include a separate menu for photos, a video menu and a custom color-coded menu, as well as setup, retouching and playback menus. There is also a customizable My Menu where you can store your most frequently used functions for quick access.
A user for whom the Nikon D780 will be the first "serious" camera may be intimidated by such an extensive menu, the abundance of items, sub-items and tabs. But an experienced photographer will appreciate how subtly thought out all the moments. Of course, there is also a customizable quick menu – for instant access to the most requested functions. It contains 12 slots and is invoked by pressing the "i" button on the rear panel. What's especially nice is that the user can set up three separate Quick Menus: one for viewfinder photography, another for Live View photography, and one for video recording.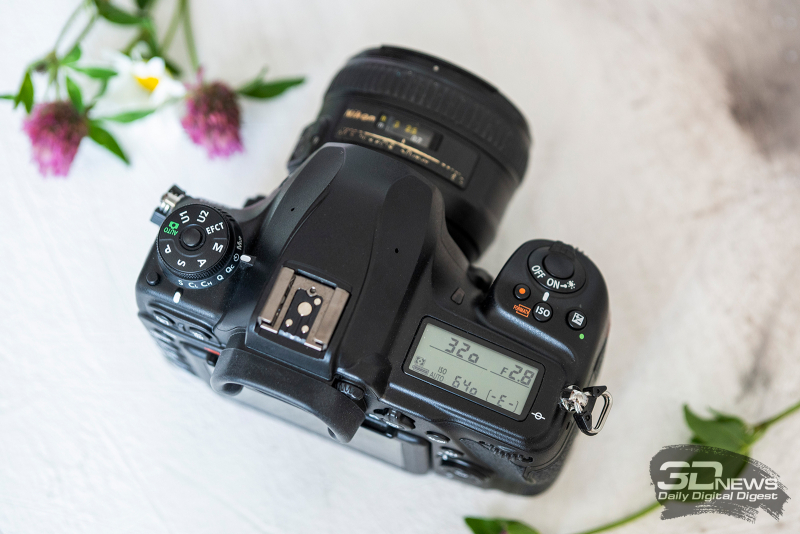 Wireless connections For communication between the camera and the mobile device, the SnapBridge app. I would like to note that pairing the camera and a smartphone follows a rather cumbersome and somewhat confusing scheme – first you need to establish a Bluetooth connection, then a Wi-Fi connection, manually enter the password that is displayed on the camera, and only then it becomes possible to start remote shooting. If, for example, your goal was to take a sneak shot, then while you deal with pairing, the plot will go away ten times.
Otherwise, the application runs smoothly. Remote shooting is available from a smartphone with a choice of mode, basic parameters and focus point and transferring pictures to a smartphone.
Camera in operation
"I haven't taken a DSLR in my hands for a long time" – this was my first thought when Nikon D780 came to the test. Something nostalgic swayed inside as I felt the usual heaviness in my hand. I will say right away to indicate my position: the optical viewfinder is not a value for me. Shooting for more than 10 years on SLR cameras, I switched to a mirrorless camera with a light shower and have never experienced problems with the fact that the viewfinder here is electronic – perhaps because I do not work in genres where the moments of lag on the digital viewfinder can really be critical are important.
We got the camera with three lenses: 70-200mm f / 2.8G ED AF-S VR II Zoom-Nikkor, 14-24mm f / 2.8G ED AF-S Nikkor and 50mm f / 1.4G AF-S Nikkor .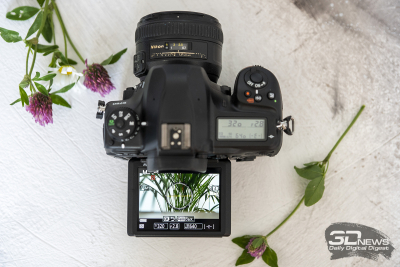 ⇡ # JPEG shooting, creative
Although the Nikon D780 is a "serious" camera and most of its users are likely to shoot in RAW format, JPEG quality remains an important factor. In our fast-paced age, the desire or need to share the images taken immediately arises more and more often, and therefore the opportunity to get a high-quality picture right in the camera is worth a lot. And I must admit, the D780 is at its best here! The picture is "juicy", sharp, balanced contrast, with correct color rendering. Basically, if the picture was taken in light conditions, I often didn't even have much to add to it in terms of processing. I took all the pictures for the review with automatic white balance, but it should be noted that the D780 has three options for "auto": shooting with a decrease in warm tones, while maintaining the general atmosphere  and keeping warm tones.
Despite the fact that the resolution of the 24.5-megapixel matrix does not look impressive by modern standards and the camera uses an anti-fog filter, the detail seems to me absolutely worthy: there are very few situations when you really need more.
The manufacturer did not deprive users of various options for instant "decorating" pictures. In addition to the standard picture profiles (portrait, landscape, and so on), the camera has a Picture Control mode that offers the user twenty filters – and very interesting ones, in my opinion. Does it make sense to use them when shooting? Why not. I find it a certain pleasure in this, even though applying the same effect in RAW post-processing is faster and more convenient. The opportunity to come up with a successful tint for a photo right on the spot is reckless in its own way.
Another option that helped me out well when shooting was the HDR mode. On Nikon D780 it is implemented very well. Let's be honest, carrying a tripod with you, setting it up every few minutes and then gluing the pictures in special programs is a dubious pleasure that should be resorted to only when it comes to shooting a potential masterpiece. For a traveling photographer who takes pictures on the run, in-camera HDR can be a real lifesaver, because too contrasting scenes still cannot be pulled out of RAW to the end. There are several HDR settings available in the camera: low, normal, high and super high. I most often used the enhanced version, but for not very contrasting scenes, you can use other options: the photo will look more natural.
The camera also has a multiple exposure mode with the ability to combine up to 10 images and choose from four algorithms for their overlay.
I'd also like to note a rather intersting and rare function of digitizing negatives – in fact, Nikon D780 can replace a film scanner.
⇡ # Shooting in RAW, dynamic range
Moving on to RAW shooting, this is where the camera should reach its full potential. Firstly, I note that you can edit RAW directly in the camera: of course, there are fewer functions than in software for a computer, but all basic manipulations can be done – adjust exposure, white balance, crop, apply a filter from Picture Control mode, select a size etc. It is quite convenient to use the touch screen. So if, for example, you don't feel like taking your laptop on a trip, but want to be able to edit your best footage more carefully, this is a good option.
Nikon D780 generally demonstrates a good margin both in shadows and highlights, but, of course, strong overexposure can be restored only partially. When lightening shadows, even very significant ones, there is no noise visible, and this is definitely pleasing.
⇡ # Autofocus, burst and buffer
The Nikon D780 essentially integrates two autofocus systems depending on whether you are shooting through the viewfinder or Live View. The main changes applies the latter option: if in the previous model D750 shooting in this mode was formally available, but clearly inferior in accuracy and speed to the viewfinder, the D780 uses the same advanced technologies as in the mirrorless Z6 – 273 points of phase detection autofocus with sensitivity up to -4EV, the ability to detect and track faces and eyes.
When shooting through the viewfinder, 51 focusing points are used – not that many by today's standards, but as mentioned at the beginning of the article, it has also undergone modifications, which means we can expect improved performance. Face tracking is also available here, but no eye tracking like in Live View.
The face and eye recognition system works great: the camera very quickly and accurately recognizes the person in the frame. But let's complicate the task and try to shoot a person moving towards the camera at high speed. Shooting was carried out in Live View mode using focus tracking with eye detection enabled. To be honest, the result impressed me so much that I couldn't believe my eyes and asked the model to run again. Because among the 23 shots (shot in 14-bit RAW + JPEG of the highest quality) that the camera took before the buffer overflowed, there was no one frame with a focus miss! As a rule, any camera has at least small mistakes by one or two frames, but the Nikon D780 gave a 100% result. As it turned out, I did the test series for a reason: there were mistakes in it, although the conditions, in fact, were similar, only the size of the plan differed (I began to shoot the first series in full body, the second – to the waist). The camera sometimes lost the model, then found it again, but the vast majority of photos are also in focus correctly.
The Nikon D780 Live View burst speed is 12fps (saved in 12-bit RAW), 7fps when shooting through the viewfinder.
⇡ # Shooting at high ISO
The Nikon D780's sensitivity range is quite impressive: 100-51200 units, expandable "down" to 50 ISO and "up" to 204 800 ISO. In the settings, users can specify the minimum and maximum ISO values, as well as the minimum shutter speed, or adjust the automatic selection of shutter speed up or down.
In general, the camera exhibits a moderate level of noise and, depending on the scene being shot, can be used for artistic purposes at ISO 12,800 and even higher. Extended ISO values ​​are more suitable for documentary shooting. Of course, noise at ISO 204 800 no longer allows you to count on a shot from an artistic point of view, but there is enough detail.
⇡ # Videography
When it comes to video shooting, the Nikon D780 also demonstrates serious characteristics for a modern SLR camera: the camera can shoot video in 4K resolution at up to 30 frames per second or Full HD at up to 120 frames per second (in the previous model limit – 1080 / 60p).
All the autofocus features that we have seen in Live View photography are also relevant for video mode: the D780 is capable of reliably tracking a subject, recognizing faces and eyes. The tilting touchscreen display is easy to use, the camera stores separate exposure settings for the photo and video modes, each mode has its own quick menu, as well as you can reassign the keys for photo or video. As mentioned above, the camera has connectors for a microphone and headphones. Among the special shooting modes, we note N-Log, which provides flexible color gradation, and Hybrid Log-Gamma (HLG) for shooting with a high dynamic range for further conversion to HDR content.
⇡ # Autonomy
The Nikon D780 uses the same EN-EL15b battery as the Z-Series mirrorless models. The camera is also compatible with older EN-EL15 batteries, but you will need at least option "a" to fully charge the battery and charge via USB is only possible with the battery version supplied with the camera ("b").
According to the CIPA standard, the battery should withstand as much as 2260 shots on a single charge when shooting through the viewfinder. I didn't find accurate data for Live View, but judging by my experience with the Z6, it should be enough for about 380 frames. I can refer to my experience, since I mainly used Live View: after a full day of shooting while traveling, after 230 shots were taken, the camera was half discharged. You can expect that its real resource in this mode of use is about 500 shots. Nevertheless, one of the main advantages of SLR cameras over mirrorless cameras in this case is played out in full.
Another great innovation is that the battery in Nikon D780 can be charged directly via USB Type-C. Unfortunately, it is not possible to charge the camera while taking photos and videos.
⇡ # Conclusion
In my opinion, Nikon D780 lived up to expectations. It has become, on the one hand, the successor of the classic mirrorless traditions, but on the other, it has one foot in the mirrorless world, incorporating the advanced technologies used in the Nikon Z6. The new camera looks like an ideal option for those who are at a crossroads – it seems like they want to change their well-worn DSLR for something more modern, but it seems that there is still no trust in these newfangled mirrorless cameras, and I don't want to give up the optical viewfinder … You can actually use the Nikon D780 this way and you will feel yourself which scenario is closer to you: traditional sighting through the optical viewfinder or Live View mode with its rich autofocus, object recognition and tracking capabilities.
Nikon D780 is a pretty versatile camera. Travel photography and landscape enthusiasts will appreciate its robustness, weather resistance, impressive battery life, good dynamic range and flexible RAWs. At the same time, on the other side of the scale –  the camera is quite heavy, its dimensions and not the highest sensor resolution.  Reportage and portrait photographers will also appreciate the work of autofocus in Live View mode: the camera easily recognizes faces and eyes and very "tenacious" leads the person in the frame, not letting him fall out of focus. Among the pluses are also very good in color (and the picture as a whole) intra-camera JPEG: this can be critical in cases when pictures need to be published immediately. One should also note the richest Nikon optics park: in this sense, mirrorless cameras are certainly lagging behind. Although we can use DSLR lenses through an adapter, there is a difference in the speed of their operation directly through the mount and in this mode, and in some situations this can be important. At the same time, the Nikon D780, unlike the Z6, does not have an in-camera image stabilization system.
Nikon D780 – the camera is very balanced, comfortable to work with and produces high quality results. Unless the resolution of the images or the size of the device is really critical for you, then you can find a reasonable alternative.
Advantages:
reliable sealed case, weather protection;

effective autofocus operation in viewfinder and Live View;

fine colors in JPEG;

good dynamic range;

impressive battery life;

good shooting performance at high ISO;

good operation of the face recognition system and eyes in photo and video mode (both in Live View and when using viewfinder);

modern video recording capabilities;

shooting 4K video in high quality;

the ability to configure the camera separately for video and photography;

tilting touch screen;

the ability to charge via USB;

a huge selection of optics.
Disadvantages:
there are not very many AF points when shooting through the viewfinder;
not very large matrix resolution ;
not the highest serial shooting;
no stabilizer;
there is no way to shoot when charging camera;